I have a dream that spirituality and soulfulness can be creatively reimagined for our time through inspirational workplaces that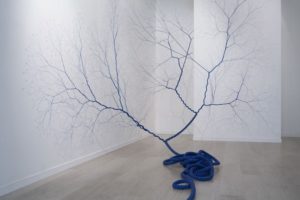 take meaning making, compassion and connectedness seriously as part of the deep, holistic wisdom we are rebirthing in our everyday communities. I know it's just a dream, but, lately, I've become rather attached to their value. It all began with another darker dream.
The faceless, silent ones came for me in the night. Midnight, no later than 1am. A full moon barely lifting velvet blackness. Outside my house they blindfolded me before hustling me into the driver's seat of a car. Still silent, they sat in the back. I was aware of imminent threat. I knew I had to drive.
Hours later, soft light and a new awareness began to dawn. Still terrified, I slowed the car. No response from the back. Shaking, I stopped by the side of the road, took off the blindfold and turned to look behind. No-one there.
Heart pounding, I sat bolt upright in bed aware this dream was trying to tell me about colluding in my own capture, but I lacked skills or the readiness to properly understand it. Two years later it was the first dream my Jungian analyst and I began our hours with. Even so, clarity took time. It took another startling dream to make me realise that patriarchal Christianity had me by the throat and was throttling the life out of my instinctual spirituality.
As this process unfolded I continued as a hospital chaplain advocating for a non-partisan approach to spiritual care beyond religious control. My blogging about this and other theological issues drew sharp criticism from Anglican church authorities in Wellington who determined my theology 'not Christian'.
Although ordained as an Anglican minister for 16 years, I was no longer in 'good standing', which meant I didn't fit the requirements of the Christian organisation who hold a Ministry of Health contract to place church authorised chaplains in New Zealand public hospitals. My job came to an end.
A few days ago, I stepped over the line in a ritual supported by my hospital colleagues. An enormous grief welled up, not just because I was leaving a job that I loved but also for the sense of alienation from a religious tradition that seems not to have enough flex to hold my spiritual exploration. One understandable response to the pain is to walk away blinded by anger and grief. I've had days like that and no doubt there will be more but, beyond the hurt, there are layers worth exploring.
As I reflect, I'm aware that all of us, in some way or another, are in thrall to organisations, most often because we're dependent on them for our livelihood. Religious organisations have been able to have a unique grip because their mythology, music and rituals explore existential questions about the meaning and purpose of existence.
The existential quest or making meaning out life experiences, is what I understand spirituality to be about, regardless of religious association or not. Especially important are the experiences that confound, irritate and destabilise us because these are the ones that hold rich wisdom to enhance living through the integration of our inner and outer worlds. This is work of the psyche or soul, which has not been well understood or encouraged in the rush to leave all things religious behind.
My experience in the hospital has shown that Kiwis still carry their existential questions with them and still need a safe place for exploration. This has been particularly apparent as I've listened to staff express how they gain a heightened sense of meaning, purpose and vocation in the workplace. It's not just about the pay packet.
This raises an interesting situation for employers.  For whilst they're already required to be concerned about the mental wellbeing of their staff I suggest that they now face the need to think through power, control and meaning issues at a much deeper level than they might ever have attempted in the past. Shared values grow in importance with the implementation of corporate values becoming a crucial test for authentic organisational commitment.
My experience of capture, collusion and slow release from the ties that bound me was both a spiritual and organisational experience. There was no way they could be separated. It helped me see that the boundaries between our work and living spaces are becoming more permeable, more fluid and that this might not be a bad thing.
So, I've begun wondering whether the breaking down of what are essentially artificial work/life boundaries, and given that the holy can be glimpsed wherever we wander, opens us up to the opportunity of bringing our whole selves to work within a reciprocal partnership model that can be life-giving for all involved.
---
The image is one of a series of artworks by Janaina Mello Landini who unravels ropes into incredible fractal patterns that evoke tree roots, river basins, lightning strikes and circulatory systems.
Landini says the idea is to 'unstitch' time from its inside, unravelling the threads of rope in constant bifurcations, until the last indivisible stage is reached, a point that holds everything together in perfect equilibrium.
I love this process of taking something you once thought was tightly bound and unravelling it to form a symbol of life and growth and, in the process, find a new equilibrium. I think we have to do that with spirituality and the way we live and move and have our being in the world beyond the knots of the past.