Oh, Godde,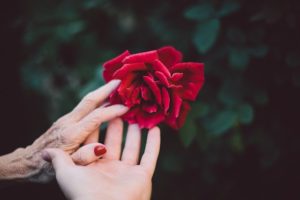 whatever you are
and I don't know;
my mum is dying.
Maturity disappeared
in one phone call
when she said,
I have something to tell you.
No!
I'm not ready.
Too many memories of being held
hurt soothed and pain kissed away.
Now, it's my turn
to wrap her suffering
in the space of compassion
she prepared long ago.
The wheel of life turns
faster than I thought
a bumpier ride than I want.
Godde help me
and my wanting what was,
to grow into who I need to be.
---
Image: Jake Thacker on Unsplash