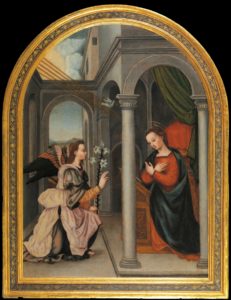 About this time every year my old friend Anxiety shows up as an obnoxious Christmas goblin.
I swear it's HER decorating shops for Christmas in early October. HER drenching my email in targeted advertising now that Google has my purchasing history and HER running the loops of repetitive carols in shopping malls, our seductive temples to consumerism.
Anxiety is invisible to some of my colleagues who love, love, love Christmas. Not for any religious reason, God forbid, but because, they tell me, it's fun and joyous and for families (never mind the stress that can lead to increased risk of family violence) and could I stop being a Christmas grinch.
Unlikely, since there is now an animated Michael Bublé warbling about White Christmas aided by a talented troupe of dancing penguins, reindeer and trumpeter elves. Apparently, Christmas isn't Christmas anymore without Michael, which kind of elevates him to the reason for the season. This seems a long way from Bethlehem.
But if I retreat to church, Anxiety appears on the seat next to me when the Jesus story is presented as literal truth. That there was an actual Jesus, born in Bethlehem about 2,000 years ago to a carpenter Joseph and his wife Mary, who then grew up to do miraculous things like walk on water, cure people from disease and raise others from the dead.
Whilst acknowledging the academic scholarship around this conundrum, for me, literalising the birth of the divine child kills the story stone dead. And given the retreat from Christianity in Aotearoa, I think it's fair to say that it no longer resonates much for Kiwis.
Yet the creative concept of imago dei, being born in the image of God, is as powerful a creative image now, as it ever was. Being able to recognise the divine in others can help us live with acceptance and compassion in our increasingly diverse communities, even if what we mean by God now is radically different from what was imagined in the 1st century.
And what if we could see the Christmas story as a symbol for our ongoing rebirth as David Tacey suggests in, Religion as Metaphor: Beyond Literal Belief? Then Christmas becomes more internal than external. Quieter, more reflective with the potential to move us from religion as a set of proscribed beliefs to a more intuitively driven space, noticing and valuing what arises within us, independent of external authorities. More akin to the Latin religio meaning to link back to 'the sacred, the holy, and that which is beyond awareness'.
Even better is that when I intentionally take that route to Bethlehem, Anxiety settles down. She stops fluffing her hair and waving her arms about in desperate attempts to be noticed. Instead, she becomes more peaceful, collaborating in my decisions to rebuff attempts by retail conglomerates or the institutional church to tell me what Christmas is meant to be.
As I choose solitude and stillness in the weeks leading up to Christmas, Anxiety is transformed into a composed birthing partner, an internal source of strength and wisdom, open to the pain and possibilities that rebirth can bring. Bethlehem beckons.
---
Image: Annunciation by Plautilla Nelli, (1524-1588) a Dominican nun who was the first known female Renaissance painter of Florence.