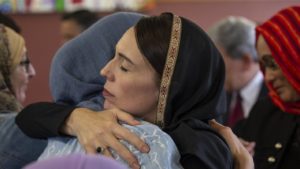 I wrote this prayer, or cry of the human heart, for an interfaith gathering at the Cathedral of the Holy Spirit in Palmerston North and the MidCentral DHB vigil. Chant, sing or say it with great passion!
---
O God of 99 names and more
we are grief stricken
struck dumb by cold-hearted killing
stunned by hatred
Even so, God
beyond that venom
sparks of light shimmer
like guiding stars in our southern sky
Kiwis calling to each other
in languages of love
braiding our traditions together
creating rivers of life
Flowing through our beloved Aotearoa
feeding, nourishing, nurturing
becoming the oceans that surround us
differences dissolve in You
God of infinite grace and imaginings
hold us we pray
in the sacred waters of restoration
from where we rise to praise all that is holy.
Amen