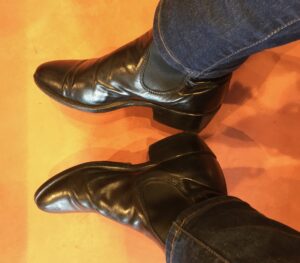 You might not immediately associate RM Williams' boots with soul but for me they're a potent symbol of the need to be grounded. To prioritise soulfulness over spiritual flights of fancy. Trading in my old pair was something of a wrench.
'Mum' sighed the beloved offspring, 'they're only boots'. The shop assistant was a tad more compassionate and gave me some private moments with my well-worn (the local cobbler loves me) companions. I was still loath to let them go, despite the significant trade-in offer.
The boot/soul connection began when I was a wannabe priest at Christchurch Anglican Cathedral under the tutelage of Dean John Bluck. I admired his exquisite skill with words. How he coaxed everyday language into a tango with hard to understand biblical text. The result was often magical.
But I was equally intrigued with the boots that poked out from under his clerical dress. A combination that symbolised the balance he struck with language. Both mystical and grounded.
In those day, I was still persisting with high heels. A symbol of my spirituality that was struggling to find a secure footing, a bit like the day I was standing behind the altar leading congregational responses. As I shifted my weight, I realised that one of my heels was caught in a drainage grate set into the floor tiles. None of my liturgical training had covered this contingency.
Theological education, clergy roles and humbling encounters came and went before I was ready to trade in my heels for boots. The time arrived when I was in Adelaide studying Narrative Practices. The process of encouraging people to be experts in their own life, narrating their story, retelling and shaping it in ways that matter for them. Theology and everyday life were integrating in a way they hadn't before. Boots took me closer to the ground of being.
I was wearing those same boots when I recently arrived in Auckland to speak at the final Ashton Wylie Mind Body Spirit Book Awards. For 17 years the Trust has supported writers to pour heart, soul and intellect into the mind body spirit genre and rewarded their efforts with thousands of dollars in prize money and new publishing opportunities.
As I stood up to speak, I remembered that day in Christchurch Cathedral when my heel caught in the grate. 22 years later I could see the symbolism. How I'd often been caught in the edifice of the church; the structure, the building, the institution, the dogma.
To be clear, I adore the religious tradition that formed me that goes back through Judaism and further still to the gods and goddesses of ancient times. But I've had to learn to sit lightly with it so that I can continue to be the author of my own evolving spiritual story.
Looking out at the book awards crowd I felt a sense of kinship with them. All passionate about finding language, both scientific and spiritual, to express what lies at the core of human existence. Some do it out of a connection with their religious tradition, others have no religious background but feel a similar sense of call to write about what matters most.
When I eased into my new RM Williams the next day, I realised I was still doing what I'd been inspired to do all those years ago. Taking the stories of my tradition and learning to tango with new spiritual authors whilst continuing to write and rewrite my own story.
Thanks John Bluck, I could never have done it in high heels.