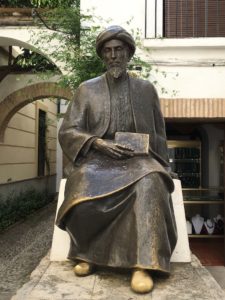 This Shrove Tuesday I'm gathering up the leftovers from three years in the spiritual wilderness and seeing what I can begin to make of them.
To be honest, it was a strange feeling when my role as an Anglican priest came to an end because church authorities deemed that I wasn't Christian. Anger, hurt, shame, grief, loss and a retaliatory indifference all swilled together in a toxic mix that threatened to completely derail me. But before that happened, I went travelling.
This was the third trip with my precious friend. Our first had been to Jerusalem and various places in Israel/Palestine. The second to Rome, Florence and Assisi.  We spend our time wandering in and out of holy sites, visiting cathedrals, mosques and synagogues. The third leg of this religious travelogue was to be Constantinople, the centre of it all, but things were fragile in Istanbul, so we headed for Toledo and Cordoba instead.
There's nothing quite like the Mosque-Cathedral of Cordoba, representative of how things can work together if you want them to. But it's the memory of the statue of Maimonides (1135-1204) the great Jewish philosopher, Torah scholar, astronomer and physician that remains most precious to me from that city. One of his great works was The Guide for the Perplexed, which seems quite apt given the circumstances.
Maimonides once said that you must accept the truth from whatever source it comes. Sounds simple but it's an enormously challenging idea, especially when you're struggling. He also said that every person thinks their mind is more clever and learned than it is. I reckoned I could take that to heart and ponder on it whilst I licked my wounds.
These trips always activate something in me, which heralds a change and this one was no different. On the way back I said to my friend, 'I've got to do something'. She didn't need much explanation knowing it would have something to do with churches, temples or sanctuaries, places that are in my blood. So, I did.
For the last three years, I've sung my way through the pain and confusion, part of a warm and welcoming group that sings at the local Catholic cathedral. Every couple of weeks I turn up on my rostered day and sit side on to the altar, within cooee of the sanctuary, all the while wondering what the truth is for me.
Last year I couldn't sing at Easter. I was too angry, too scoured out. This year it feels different. So, I promised myself that I would put thinking aside and sing at every opportunity through the season to let the truth, whatever it is, reveal itself to me.