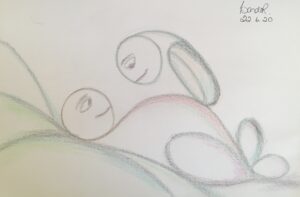 mother mary
cardinal creator
hidden in plain sight
birthing magnificence
beyond assumption
mother mary
sensual symbol
embodied energy
with just one kiss
divinity is revealed
mother mary
blessed creator
submissive, never
in birthing splendour
reflects her Self
---
The bible can seem pretty dry and unreadable. All that tiny print crammed onto hundreds of thin pages. And unless we've got a time machine, the meanings are elusive. This despite the best efforts of erudite theologians and historians.
After being raised in the Christian tradition, theologically educated, gone through the long process of ordination and out the other side, I find myself in a completely different spiritual landscape. And still, the stories, imagery and symbols of the biblical text continue to call me. That has proved to be something of a conundrum.
So, what I've been doing lately is taking an active reader response stance to the text. This means I can stir the dust and try to over-ride any 'correct' meanings that might have taken root within me, despite my best resistance.
I've also added doodling and dream work. This helps me unlock the ideas, images and symbols about the divine feminine that are hidden in plain sight. Opening to new meanings that come from my experience, imagination and inner promptings is bringing new delight.