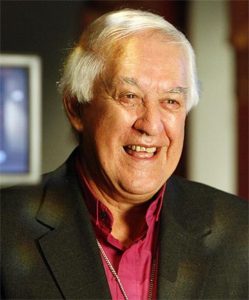 Professor Sir Mason Durie is a seasoned presenter.  One slide with three points and he had the standing room only crowd in his hand at Vaughan Park Anglican Retreat Centre. 
We were a willing audience having gathered to hear his lecture in honour of the Rt Rev'd Sir Paul Reeves, former Governor General and Archbishop of the Anglican Church.  Nevertheless, it was a class act.
We've been shaped in Aotearoa, said Prof. Durie, by two philosophies, the Maori indigenous system, and the western, Westminster one. Two different ways of understanding the world and organizing knowledge. So it's no wonder, he said with wry understatement, that we've had some misunderstandings as we've got to know each other. 
I was struck, not so much by his visioning about how New Zealand might be in 2030 although this was intriguing, but more by his graciousness and subtle compassion. A wise approach that seemed grounded in a deeper source beyond intellectual excellence. It jogged my memory of a long-ago dinner.
Paul and Beverley Reeves were sitting around the table, sharing food and wine with some staff and students from St John's Theological College.  On the surface, it was nothing special.  To a wet behind the ears ordinand, it was terrifying. Consequently, to the irritation of my friends, I couldn't remember any details of the dynamic theological and political discussions that night.
What I do remember vividly is the impact Paul had on me. He seemed to be like an artist called to live within the work they are creating at the time, but not completely in charge of the generation of ideas or how they may string themselves together, until at some point there comes a realisation that they are the creation and the creation is them. 
Paul had given himself over to this higher purpose so that all thoughts and actions were formed and undertaken within the ambit of that greater good or ultimate reality.   
Religions have called this kind of commitment a conversion experience and laid claims on people who make the step within their framework. You could say that was the case for Paul because he was a priest, but that only goes so far. 
What really matters is answering the call to live within the more than. More than our own ability and consciousness can be for us.  More than any particular religious tradition can contain. That kind of call is open to all of us even if we don't consider ourselves to be spiritual in the traditional sense.
Sir Paul and Sir Mason. Two Knights with a great deal in common. Alive in the more, offering soulful presence that helps the ongoing creation of an integrated world.     
Paul's impact on my life mattered a great deal but he would never have known that. When he died the only thing I could do was write for him….
I met an Archbishop once
who'd been a Governor-General.
A straight talker, no bullshit
packaged with kindness.
I recall that he said
in a magazine I read
that as time went by
he believed less and less
but held more strongly
to the Truth he knew.
He encouraged me
this boy from Newtown,
priest of simple significance
like velvet,
lush and deep.
More on Mason Durie from the New Zealand Herald: Professor bows out on a high note